On A Mission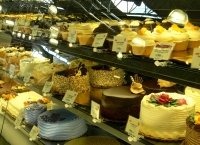 Several years ago, I walked into a grocery store in Michigan to see what all the buzz was about. Upon entering, I went into sensory overload. It was a culinary dream. Neatly stacked pyramids of ripe and shiny apples, oranges, pears - for miles. Amazingly unique items, shore-quality seafood, colorful healthy salads, and freshly packaged pre-cut vegetables waiting to be added to a dish.
That grocery store was a Whole Foods Market. I was expecting the look and feel of a farmers market, what I felt inside was like Disneyland. At first, it is a bit overwhelming, but Whole Foods is definitely a foodies paradise.
After seven years of waiting, I was more than excited to hear that Whole Foods was coming to the West Side. A Whole Foods Market within walking distance! I was on a mission. I had to get a job there. I trolled the Internet for more information and submitted resumes to every department. Then, I waited. Finally, I got an email for a prescreening interview.
The process to follow was unlike any I have ever experienced. I received email instructions preparing me for a group interview. Interview in front a panel of human resource folks or executives, no problem. Nope. A group interview with other people who are competing for the same position that I was.
I did my research on the company and studied the core principles, mission, and values. The first thing I was told upon arrival for my interview was that Whole Foods can train you in a department, but it can't make you into a different person. The interviewers were looking for team members, customer-service-oriented people who were passionate about food. Check.
The first step in the process was to introduce myself to the group, to state the department I'd like to work in and to describe my meteor food. (If there were a meteor heading to the earth, what would you want to eat?) My last meal would be a French baguette, Stilton blue cheese and a bottle of wine. Mind you, this was a casual environment. Given that the HR department and managers were in t-shirts and jeans, tattoos and beards, I needed to open my mind to the process.
We were separated into groups and asked to do a presentation on the core principles of Whole Foods. Oh my! I may not get this job just because they don't like our skit. One-on-one interviewing is my forte, but this. Well, there is a method to the madness. After a very long three-hour interview process...with a degree in Hospitality Management and Culinary Arts, years of management experience in the food business, and baking since the age of ten, I found myself in competition for an entry level position with people even more qualified than I was!
I am pleased to announce that I was offered a position in the retail area of the Bakery. The method and the madness worked because we have a great team. What a wonderful experience to work with people and customers who are as passionate about food as I am.
Selling a beautiful cupcake that is baked in the store with real butter and cage-free eggs is why I was put on this earth. I may not own the store, but I feel like I've found a home.
The opinions expressed are solely those of the writer who does not speak on behalf of Whole Foods Market.
Colleen Wing
Colleen Wing is currently employed by Whole Foods Market. She lives in Rocky River.
Read More on Local Business
Volume 3, Issue 4, Posted 1:22 PM, 10.11.2015