Chamber Member Wins Grand Prize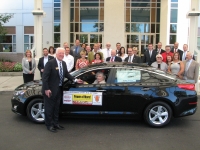 All six chambers in the Power of More have the opportunity to win thousands of dollars worth of prizes every time they attend a networking event. This September the raffle tickets were combined from events held in 2015 and Fairview Park chamber member, Eileen Donahue, was the lucky winner.
Eileen received a three-year lease on a brand-new Kia Optima from Montrose Kia. She won this prize simply by being an active member of her chamber. Over 100 Power of More chamber members were on hand at Montrose to witness the ticket drawing. Several other prizes were awarded as well, including a television, a table, Cedar Point passes and hotel packages. The grand prize for 2016 will be announced at this year's Chamber Holiday Party at Dave & Buster's in Westlake.
Upcoming events for the chamber include the Power of More Oktoberfest on October 15 from 5:30 p.m. to 8:00 p.m. at the North Ridgeville VFW Hall and a breakfast meeting of the Fairview Park, North Olmsted and Olmsted chambers on October 29 from 8:00 a.m. to 9:30 a.m. at the German Club in Olmsted Falls.
Tammy Bertrand
Tammy Bertrand is the Marketing Manager of the Power of More Networking organization, which combines six West Side chamber of commerce groups.
Read More on Local Business
Volume 3, Issue 4, Posted 4:22 PM, 10.06.2015