Rocky River Public Library's Newsletter Wins National Recognition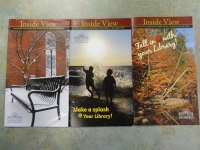 "Inside View," Rocky River Public Library's lively news and events publication has won the American Library Association's award for best newsletter. The annual PR Xchange Awards recognize the very best public relations materials produced by libraries across the country in the past year. Winners were chosen based on content, originality, and design by a team of experts in public relations, graphic design, communications, and marketing. Nearly 375 entries in print and electronic formats were submitted from over 100 institutions including public, academic, school, state, and special libraries.
Kitty Sommers is the Director of Marketing at Rocky River Public Library.
Kitty Sommers
Director of Marketing at Rocky River Public Library
Read More on Libraries
Volume 3, Issue 1, Posted 3:31 PM, 06.29.2015